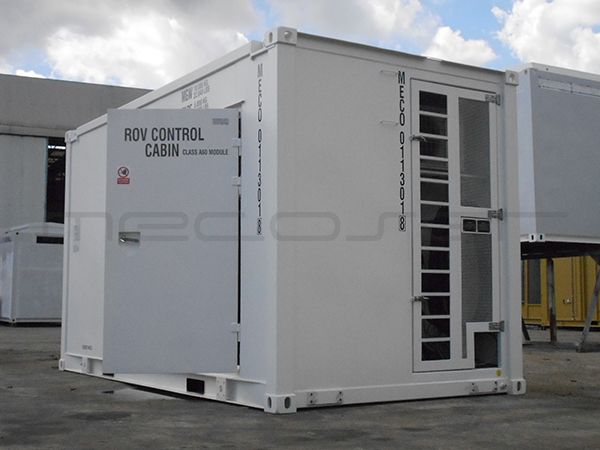 La cabina di controllo ROV è un sistema installato in container offshore 16 piedi, certificato DNV 2.7 – 1 che può essere movimentato come un'unità completa ed integrata. La cabina include il rifornimento di energia necessaria al funzionamento delle attrezzature, della climatizzazione degli ambienti e al comfort degli operatori ROV.
La cabina ROV è un container offshore dove le dimensioni esterne sono:
lunghezza 4.850 mm;
profondità 2.438 mm;
altezza 2.740 mm.
Sito e dati ambientali:
intervallo di temperatura strutturale per campo operativo e stoccaggio da – 20 °C a + 45 °C in tutte le condizioni climatiche;
intervallo di umidità dal 10% al 100%;
vento fino a 130 km/h.
Carichi e pesi del progetto:
la struttura del container è in grado di trasportare 350 kg/m² sul pavimento, 150 kg/m² sul tetto e una carica aggiuntiva di peso per la nave sul tetto di + 200 kg/m²;
peso massimo del container R = 10.000 kg;
carico utile P = 5.000 kg;
peso di tara T = 5.000 kg.
Test, marcatura e certificazioni in conformità con:
DNV 2.7 – 1 : 2013 "Standard for certification – offshore containers";
EN 12079 – 1 : 2006 "Offshore containers and associated lifting sets – Design, manifacture and marking";
CSC "International convention for safe containers";
A60 class container certificate compliance.
ROV Control System in A60 Cabin
ultima modifica:
2018-06-18T15:57:35+02:00
da